Prices per room / per night
A for Athens Hotel 3* Monastiraki Square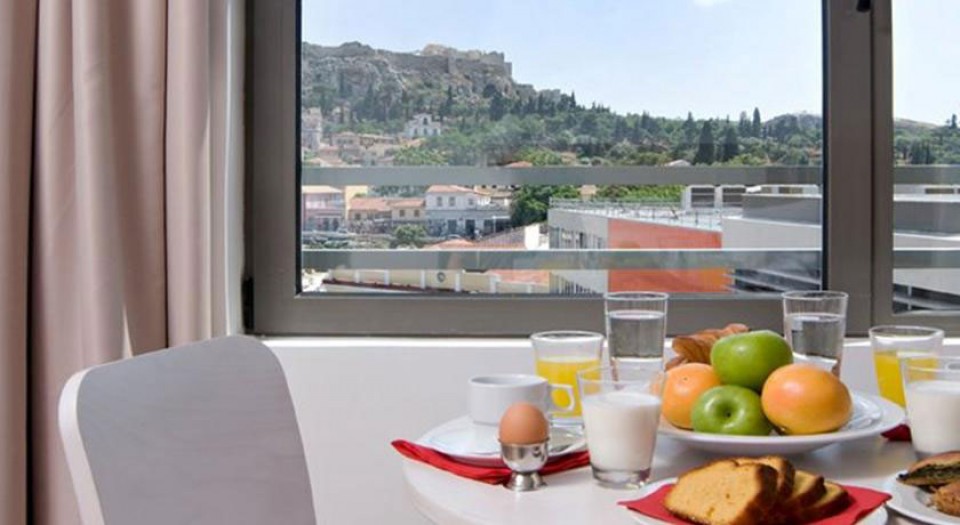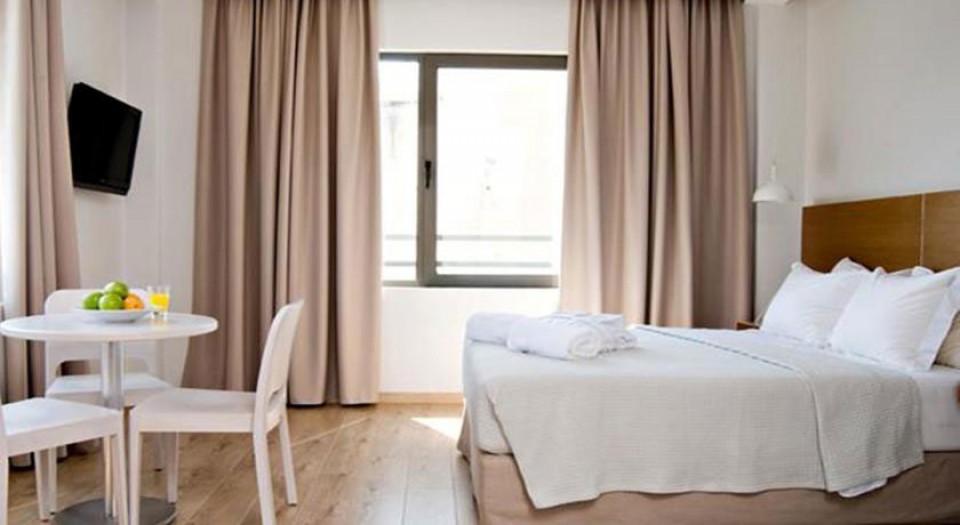 A for Athens is the new city design hotel in Athens.

Located just across the Acropolis and above Monastiraki Square, A for Athens offers a truly unique viewing experience to the city's most famous monument. The hotel is next to Monastiraki station, which serves for easy transportation to and from the Airport and Piraeus Port and sets all the city's excitements in walking distance.

Indulge yourself in a relaxed and minimalistic environment, in any of our 35 fully equipped rooms, designed by a team of local designers and featuring creations by the city's best talent.

A for Athens stands for enjoying the essence of Greek hospitality and coming in touch with the hidden treasures of the city. If you are up for experiencing city life to the full, this is the place for you.

Each of the 35 rooms is comfortable and elegantly designed, with a contemporary greek twist and an attention to detail. At A for Athens there are no extravagant luxuries, but you will get a view to the Acropolis even while you take your shower or ideas on places to visit while in your room.

Choose one of the room types, Wide View or Homy, for more information and room facilities.

Main amenities

35 smoke-free guestrooms
Restaurant and bar/lounge
Rooftop terrace
Airport shuttle
In-room childcare
24-hour front desk
Coffee/tea in a common area
Air conditioning
Daily housekeeping
Computer station
Snack bar/deli
Laundry service

Free breakfast and free WiFi

For families

In-room childcare (surcharge)
Babysitting or childcare (surcharge)
Private bathroom
Free toiletries
Daily housekeeping
Laundry facilities

What's around

In Monastiraki
Ancient Agora (5-minute walk)
Roman Agora (6-minute walk)
Filopappos Hill (13-minute walk)
Parthenon (14-minute walk)
Hellenic Parliament (14-minute walk)
Acropolis Museum (16-minute walk)
Monastiraki Flea Market (2-minute walk)
Odeon of Herodes Atticus (13-minute walk)
Temple of Olympian Zeus (16-minute walk)

Air conditioning
Blackout drapes/curtains
Daily housekeeping
Desk
Flat-panel TV
Free toiletries
Free WiFi
Hair dryer
Hypo-allergenic bedding available
In-room childcare (surcharge)
In-room massage available
In-room safe (laptop compatible)
Iron/ironing board (on request)
Minibar
Private bathroom
Rainfall showerhead
Room service (limited hours)
Satellite TV service
Shower only
Sleep Number by Select Comfort mattress
Slippers
Soundproofed rooms
Achilleas Hotel 3* Sintagma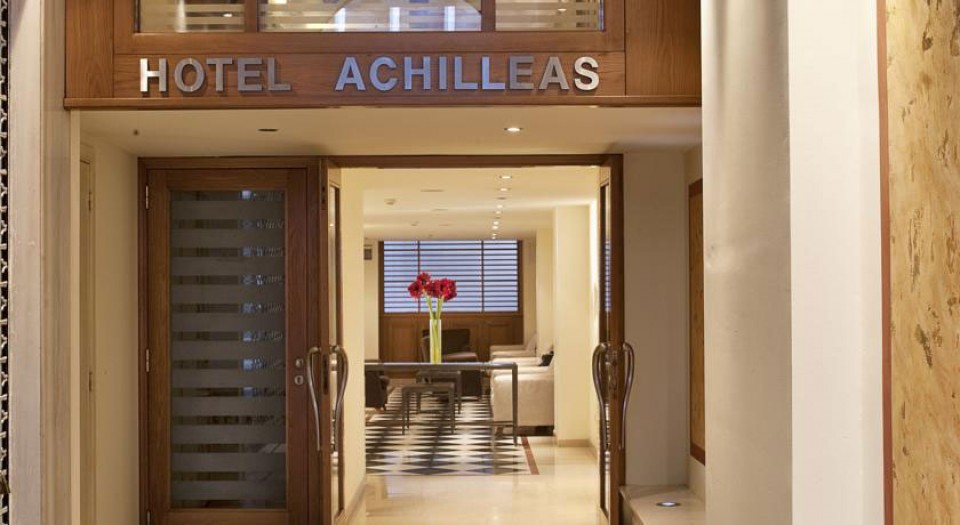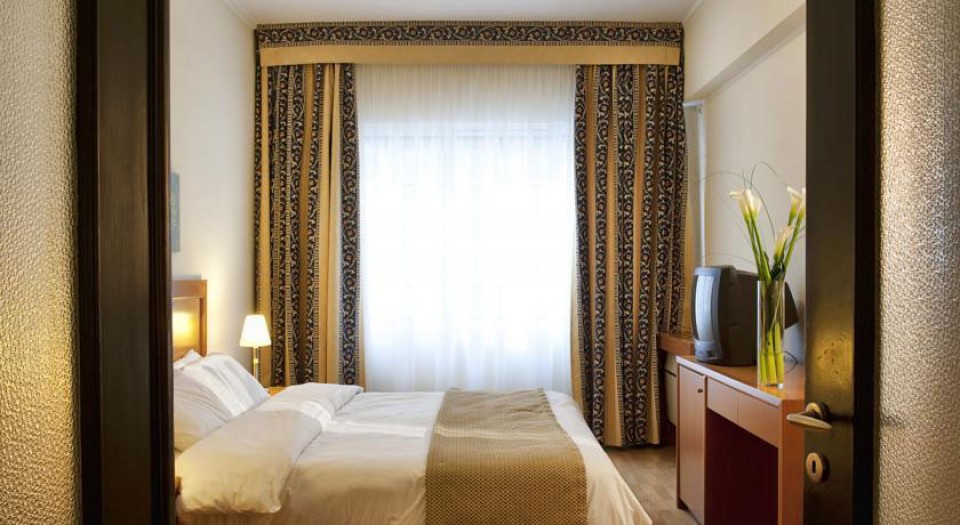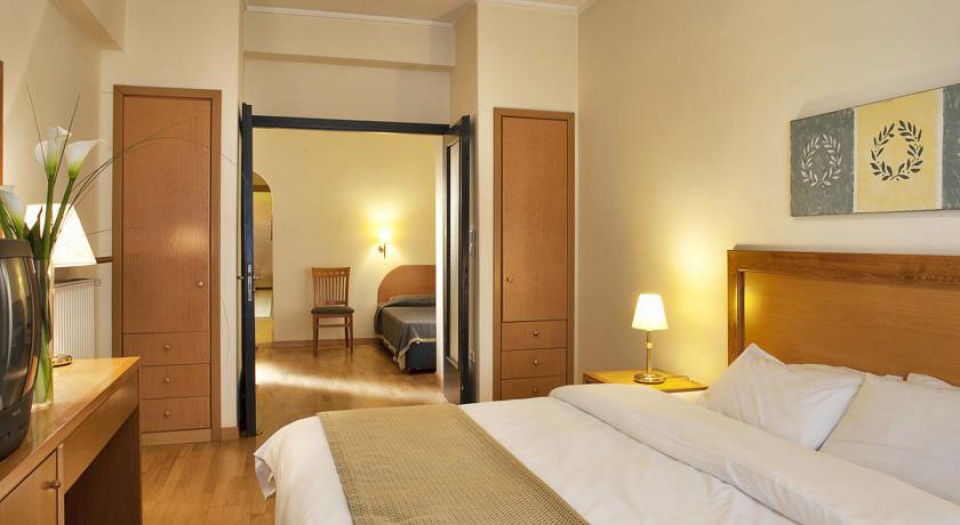 Achilleas family friendly Hotel is located in downtown Athens. It's a cozy, contemporary hotel with spacious rooms and suites of up to 30 sq.m. This family friendly hotel is only few minutes away from Syntagma Square and the commercial hub of Athens and it's known for its friendly, yet extremely professional staff.

The hotel features a nice lobby, elegantly decorated, with comfortable couches, antiques, a big screen TV with satellite channels and a PC, with complimentary internet access. The reception is open 24 hours a day and the staff is always willing to provide you with any information you might need, about the city, the transportation, sightseeing, museums, archeological sites, excursions etc.

Main amenities

34 guestrooms
Bar/lounge
Room service
Limo/town car service
In-room childcare
24-hour front desk
Climate-controlled air-conditioning
Daily housekeeping
Front desk safe
Laundry service
Multilingual staff
Concierge services

Free buffet breakfast and free WiFi

For families

Babysitting or childcare
In-room childcare (surcharge)
Babysitting or childcare (surcharge)
Refrigerator
Private bathroom
Television

What's around

In Athens City Centre
Hellenic Parliament – 6 min walk
Roman Agora – 9 min walk
Ancient Agora – 12 min walk
Acropolis Museum – 14 min walk
Filopappos Hill – 19 min walk
Parthenon – 20 min walk
Monastiraki Flea Market – 10 min walk
Benaki Museum – 12 min walk
Zappeion Hall – 12 min walk
Arch of Hadrian – 13 min walk

Air conditioning
Bathtub or shower
Blackout drapes/curtains
Daily housekeeping
Desk
Free toiletries
Free WiFi
Hair dryer
In-room childcare (surcharge)
In-room climate control (air conditioning)
In-room safe
Private bathroom
Refrigerator
Room service (limited hours)
Satellite TV service
Soundproofed rooms
Television
Acropolis Ami Hotel 3* – Makrygianni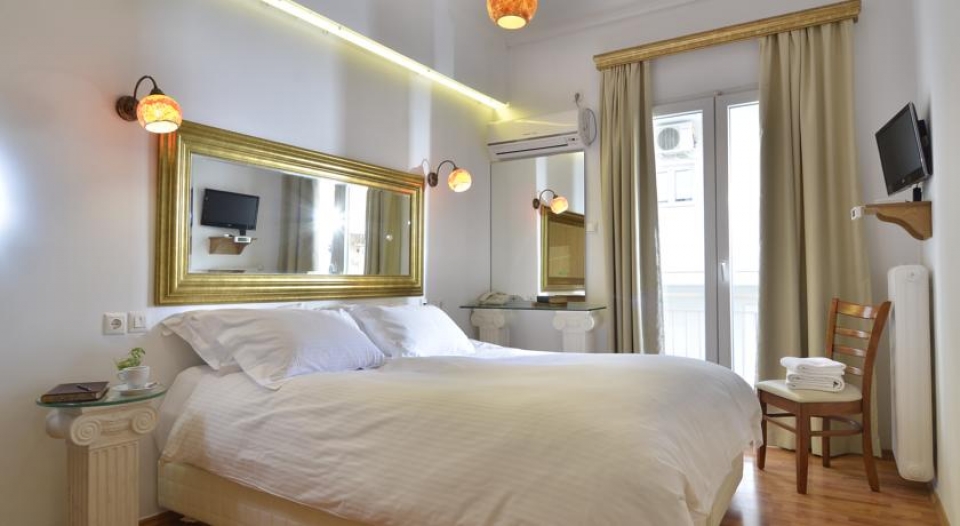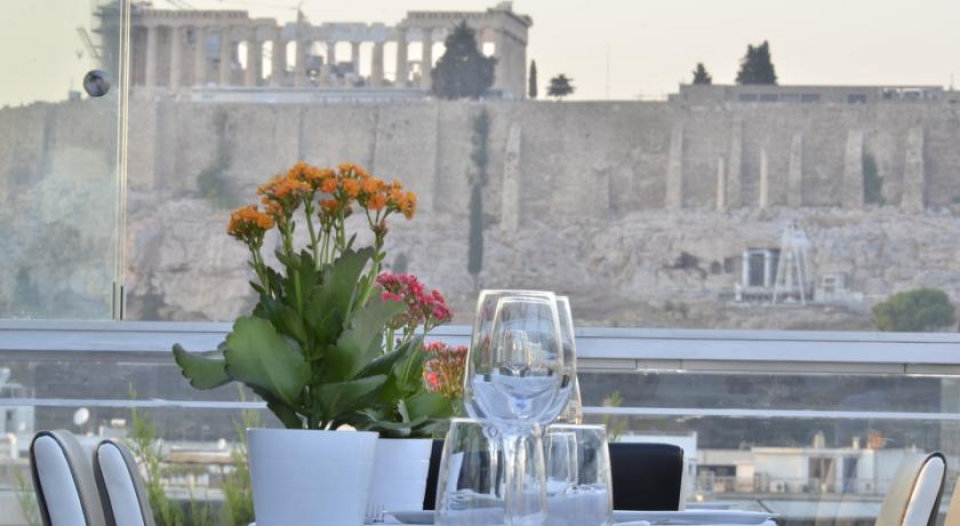 Main amenities

18 guestrooms
Restaurant and bar/lounge
Breakfast available
Airport shuttle
Terrace
24-hour front desk
Coffee/tea in a common area
Air conditioning
Daily housekeeping
Computer station
Front desk safe
Laundry service

For families

Free cribs/infant beds
Refrigerator
Private bathroom
Free toiletries
Terrace
Daily housekeeping

Top spots nearby

Acropolis Museum (5-minute walk)
Temple of Olympian Zeus (6-minute walk)
Panathenaic Stadium (9-minute walk)
Monastiraki Flea Market (14-minute walk)
Acropolis Hill Hotel 3* – Makrygianni
The newly built Acropolis Hill is the most recent gem of the Tour Hotel Group, in the area around Acropolis. It is located near the impeccable new Acropolis Museum and the historical centre of Athens.

Guests enjoy great views of the Acropolis, the Filopapou Hill and across the city of Athens from their private balconies. The stylish and contemporary guest rooms feature wooden floors and comfortable beds. Wi-Fi is free and available throughout the premises.

Just a short walk from the hotel guests can visit Plaka, Syntagma, Monastiraki and other various Athenian places of interest. It is easily accessible by Syngrou-Fix subway and tram stop or by bus.

Main amenities

37 guestrooms
Outdoor pool
Rooftop terrace
Bar/lounge
3 meeting rooms
Limo/town car service
In-room childcare
24-hour front desk
Coffee/tea in a common area
Air conditioning
Daily housekeeping
Laundry service

Free buffet breakfast and free WiFi

For families

Babysitting or childcare
In-room childcare (surcharge)
Babysitting or childcare (surcharge)
Refrigerator
Connecting/adjoining rooms available
Private bathroom

What's around

In Athens City Centre
Filopappos Hill (6-minute walk)
Parthenon (7-minute walk)
Acropolis Museum (9-minute walk)
Roman Agora (15-minute walk)
Ancient Agora (19-minute walk)
Syntagma Square (22-minute walk)
Hellenic Parliament (24-minute walk)
Odeon of Herodes Atticus (6-minute walk)
Temple of Olympian Zeus (13-minute walk)
Arch of Hadrian (13-minute walk)

Air conditioning
Balcony
Blackout drapes/curtains
Connecting/adjoining rooms available
Daily housekeeping
Desk
Digital TV service
Free toiletries
Free WiFi
Hair dryer
In-room childcare (surcharge)
In-room climate control (air conditioning)
In-room safe
Iron/ironing board
Premium bedding
Private bathroom
Refrigerator
Room service (limited hours)
Shower only
Sofa bed size single
Soundproofed rooms
Television
Acropolis Select  Hotel 3* – Makrygianni – Athens
Ideally located close to the Acropolis and Plaka, Acropolis Select combines comfort and convenience for a great value base in Athens, just 50 m from the metro.

The contemporary rooms at Acropolis Select are well-furnished with Italian design furniture. Each one offers plenty of space and modern bathrooms with bathtubs.

The friendly and professional staff is available 24 hours a day. They are also happy to provide you with suggestions for day trips and helpful travel information.

Acropolis Select is just a short stroll away from the bars and restaurants in the lively Plaka district. The nearby metro station provides easy access to the rest of Athens. The New Acropolis Museum is only 150 m away.

Main amenities

72 guestrooms
Restaurant and bar/lounge
Breakfast available
Self parking
24-hour business center
Airport shuttle
In-room childcare
24-hour front desk
Coffee/tea in a common area
Air conditioning
Daily housekeeping
Car rentals on site
Free WiFi

For families

In-room childcare (surcharge)
Babysitting or childcare (surcharge)
Private bathroom
Separate bedroom
Free toiletries
Daily housekeeping

What's around

In Athens City Centre
Acropolis Museum (9-minute walk)
Parthenon (11-minute walk)
Filopappos Hill (12-minute walk)
Roman Agora (15-minute walk)
Syntagma Square (19-minute walk)
Hellenic Parliament (21-minute walk)
Ancient Agora (22-minute walk)
Temple of Olympian Zeus (9-minute walk)
Arch of Hadrian (10-minute walk)
Odeon of Herodes Atticus (11-minute walk)

Cable TV service
Air conditioning
Coffee/tea maker
Daily housekeeping
Desk
Down comforter
Free toiletries
Free WiFi
Hair dryer
In-room childcare (surcharge)
In-room climate control (air conditioning)
In-room massage available
In-room safe
LCD TV
Minibar
Premium bedding
Private bathroom
Room service (limited hours)
Separate bedroom
Shower/tub combination
Soundproofed rooms
Adrian  Hotel 3* – Plaka- Athens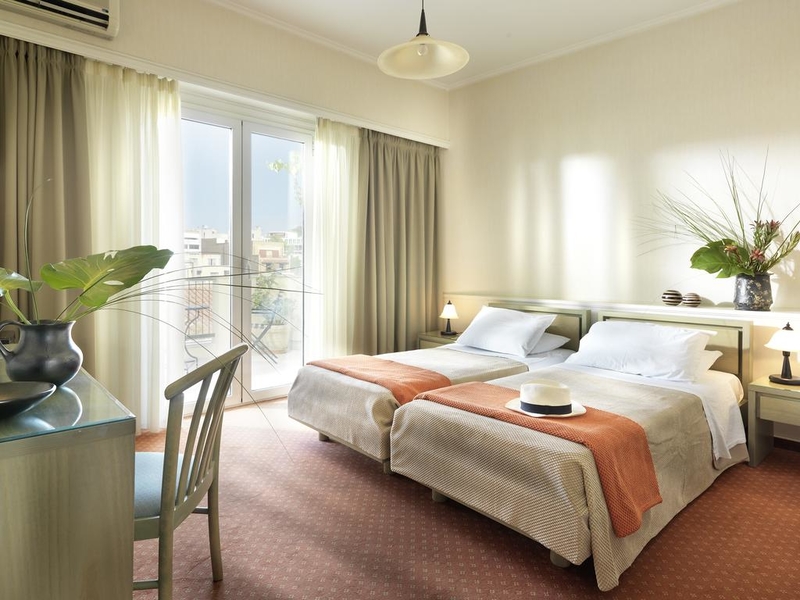 Located right under the Acropolis hill, Adrian Hotel is ideally located near all major Athens attractions. Rooms are elegantly decorated and feature private balconies. The rooftop terrace overlooks the Parthenon.

Hotel Adrian's air-conditioned rooms feature cable TV, minibar and free WiFi access. Windows are soundproof, while a daily maid service and a pillow selection are also available. A laptop or a tablet can be provided upon request and availability.

During the warm months breakfast is served on the rooftop terrace with views of the Acropolis and scenic Plaka area. Hotel staff can arrange taxi transfers and give travelling information.

There are many entertainment and shopping facilities near the Adrian. The Ancient Agora and Monastiraki flea market are within a few-minutes' walk. Monastiraki Metro Station is just 150 m away.

Main amenities

22 smoke-free guestrooms
Rooftop terrace
Breakfast available
Bar/lounge
Limo/town car service
24-hour front desk
Air conditioning
Daily housekeeping
Computer station
Luggage storage
Tour/ticket assistance
TV in a common area

For families

Free cribs/infant beds
Private bathroom
Television
Free toiletries
Daily housekeeping
Hair dryer

What's around

In Athens City Centre
Roman Agora (2-minute walk)
Ancient Agora (7-minute walk)
Acropolis Museum (11-minute walk)
Hellenic Parliament (12-minute walk)
Filopappos Hill (12-minute walk)
Parthenon (13-minute walk)
Monastiraki Flea Market (6-minute walk)
Temple of Olympian Zeus (10-minute walk)
Arch of Hadrian (11-minute walk)
Zappeion Hall (12-minute walk)
Arion Hotel 3* – Monastiraki Área – Athens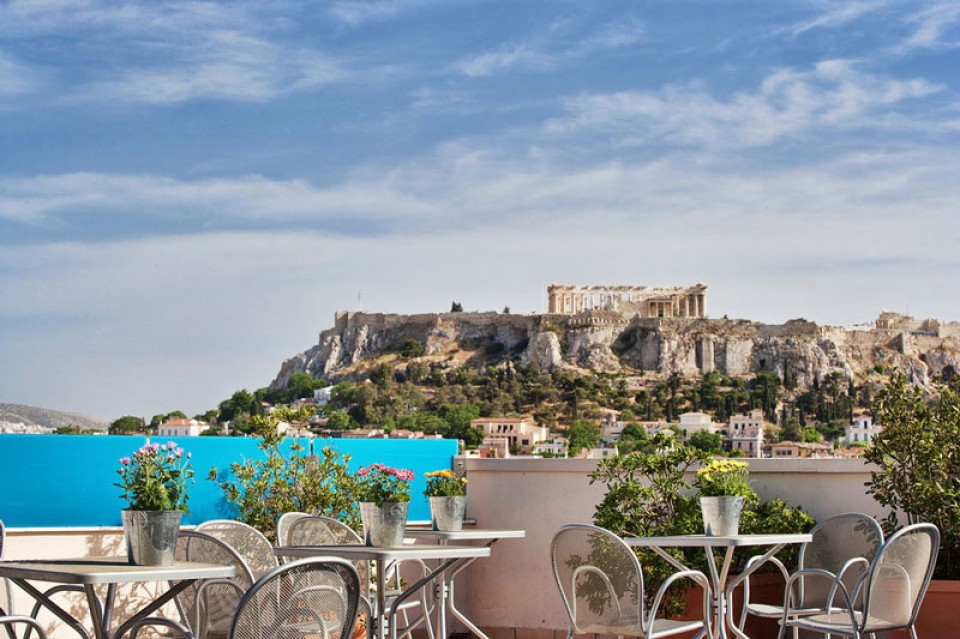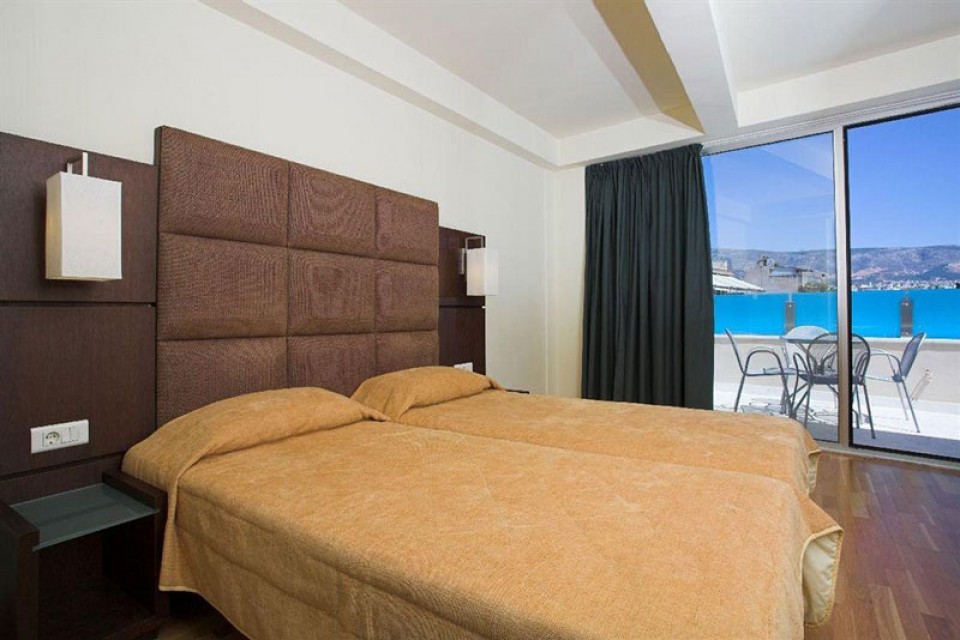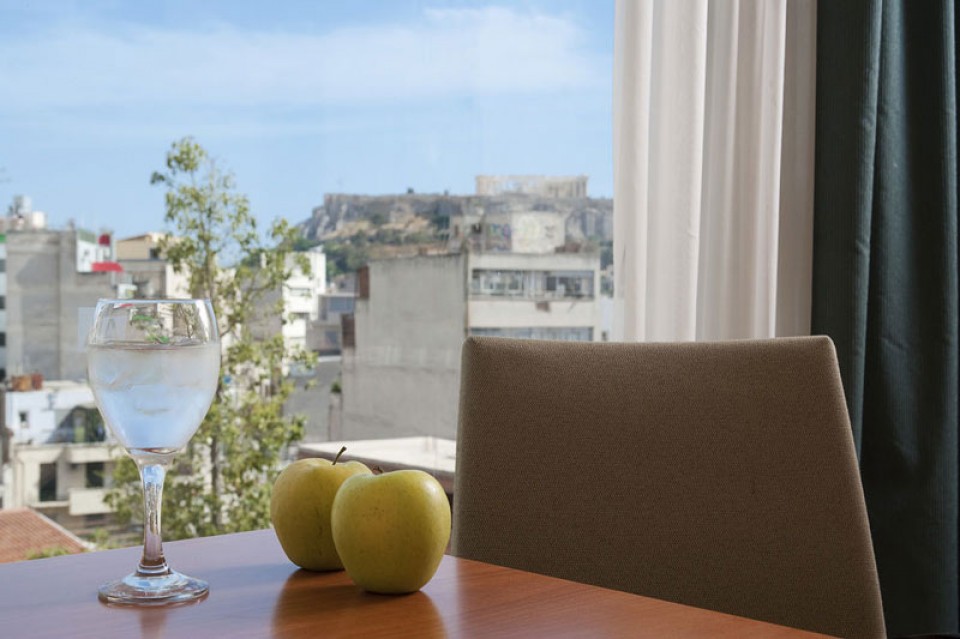 Arion Athens Hotel is a modern, city centre hotel, a 2-minute walk from Monastiraki Metro Station and a minute walk from Psiri. It features bright, stylish rooms and a rooftop garden with stunning Acropolis view.

The 3-star hotel offers contemporary rooms with luxurious marble bathrooms, wooden floors, doubled-glazed, soundproofed windows and fire doors. A number of the rooms also feature a balcony or large windows with Acropolis view.

A rich English buffet breakfast is served on the mezzanine floor, between 7:30 and 10:30 in the morning and includes hot and cold delicacies, coffee, tea, juices, cereal, yogurt and much more.

The hotel's extremely convenient location provides easy access to the Monastiraki Flea Market, Plaka, Thiseion, as well as Syntagma Square.

The hotel has a large lobby and a reception which remains open 24 hours a day. The staff are at hand all day, providing guests with information about the city, sightseeing, transportation, excursions.

Main amenities

51 smoke-free guestrooms
Room service
In-room childcare
Terrace
24-hour front desk
Air conditioning
Daily housekeeping
Car rentals on site
Computer station
Front desk safe
Laundry service
Multilingual staff

What's around

In Monastiraki
Ancient Agora (0.4 mi / 0.6 km)
Roman Agora (0.5 mi / 0.8 km)
Monastiraki Flea Market (0.3 mi / 0.4 km)
Hellenic Parliament (0.7 mi / 1.2 km)
Syntagma Square (0.7 mi / 1.2 km)

.

Two single beds, with a detachable third bed
•Full air condition
•Mini bar
•Double-glass soundproof windows
•Satellite TV
•Charming view
•Hairdryer
•Marble bathrooms with shower/bathtub
•Toiletries
•Safe
•Spacious closets.
Athens Center Square Hotel 3* Standard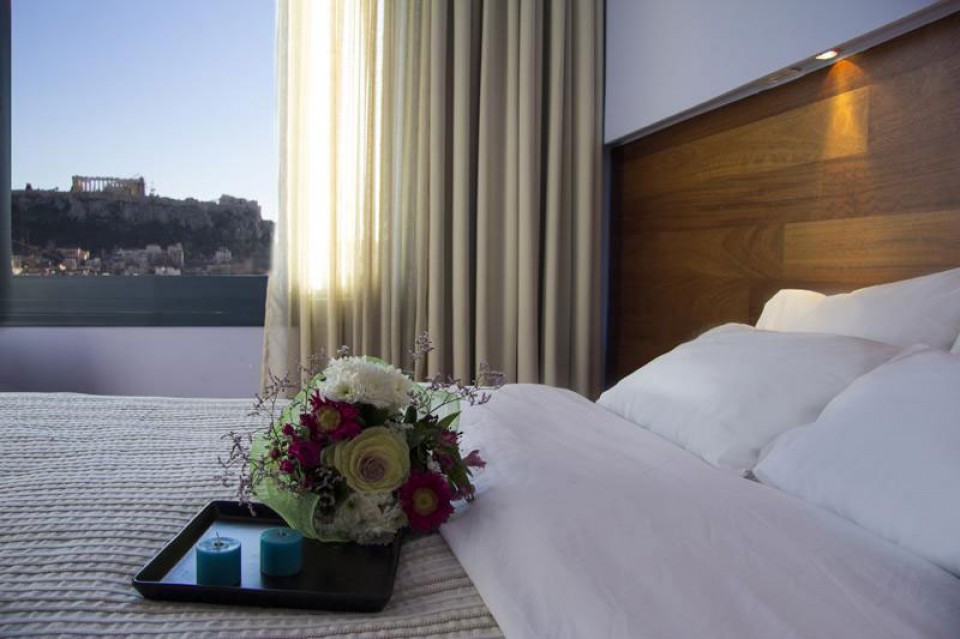 Athens Center Square Hotel, offers 54 guestrooms with eight unconventional design concepts. Stylish and functional comfort is the philosophy of hotel Athens Center Square and the execution is just about pitch-perfect. Guest rooms are designed to maximize contrast with the bustle of Athenian street life, and lull guests into tranquility with diffused lighting and a palette of different colours in each floor.

When making a reservation you can request a room with your favourite colour among: kiwi green, blue lagoon, blue turquoise, blue ocean, red, orange, light violet, yellow.

 A suitably chic lobby lounge serves coffee and relaxing time after a long day in Athens' s interesting sites.
On the first floor a rich buffet breakfast is served in a bright environment styled with the special touch of decoration from painter Corinna O'Brien. We offer: scrambled and hard boiled eggs, ham, sausages, cheese, selection of serials, yogurt with honey, fresh fruits of the season, fruit salad, compote, croissants, cakes, home made jams etc. Breakfast room is open from 07.00 – 10.00 hrs. The night shift can accommodate you on an early check out.
Dinner is offered only for groups. There are plenty of tavernas and restaurants in the area of Plaka, Monastiraki and Psiri for the individual client who wants to experience a variety of tastes.
The Athens Center Square hotel, welcomes you to lounge about all day, but most visitors are here to visit the Acropolis, museums , galleries, the Parliament, the flea market and do their shopping. The roof top terrace offers a panoramic view of the Acropolis, Lycabetus Hill, Phillopapou etc. You will dream about writing your memoirs on this beautiful experience : Athens forever and ever…

Intenet Access

There is free wireless internet access in all areas of the hotel.  At the lobby of the hotel, there is a computer with a printer.

Travel Services

Our travel agency can help you with your travel needs in Greece and organize sightseeing and day trips around Athens (visiting Acropolis, Archeological museum, Ancient Agora, Plaka area, Cape Sounion, Delphi, Ancient Corinth etc)

Individually controlled air conditioning

Bathroom with Shower

Large Window

Breakfast Buffet

Satellite TV 26'' inches

Free Wi-Fi Internet connection

Radio

Mini fridge

Hairdryer/ amenities in the bathroom

Digital safe

Telephone

Smoke detectors

45 minutes fire resistant doors

Room service from 07.00 – 19.00 hrs

 

On Request

Dry cleanning

Cloths washed

Iron/ Ironning board
Athens Way 3* – Athens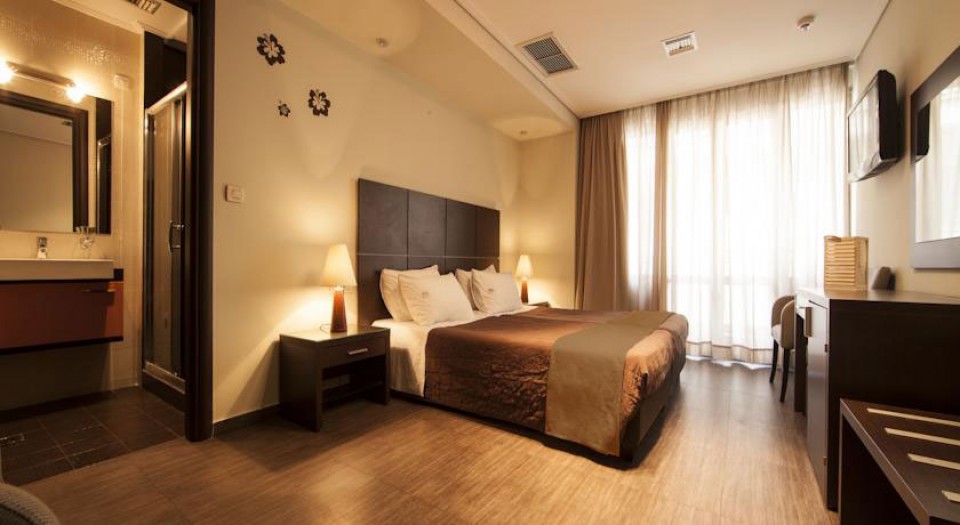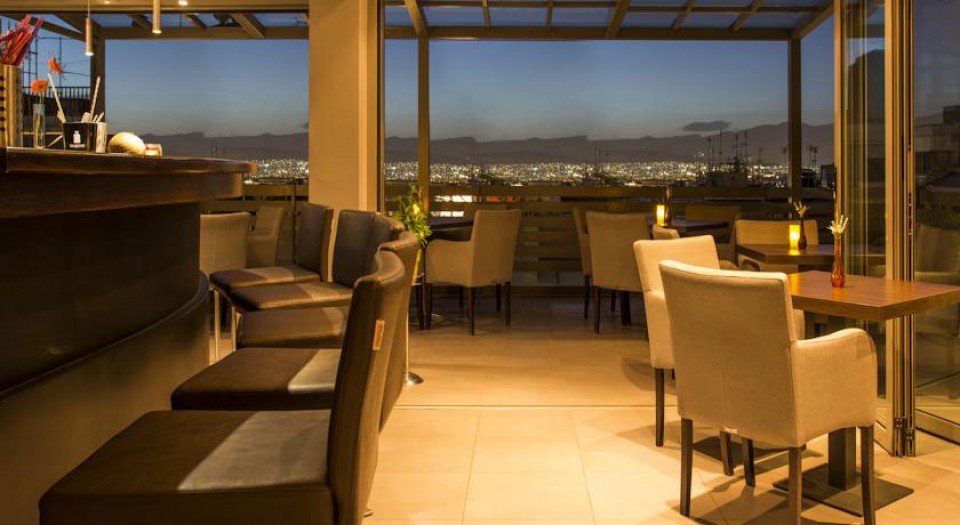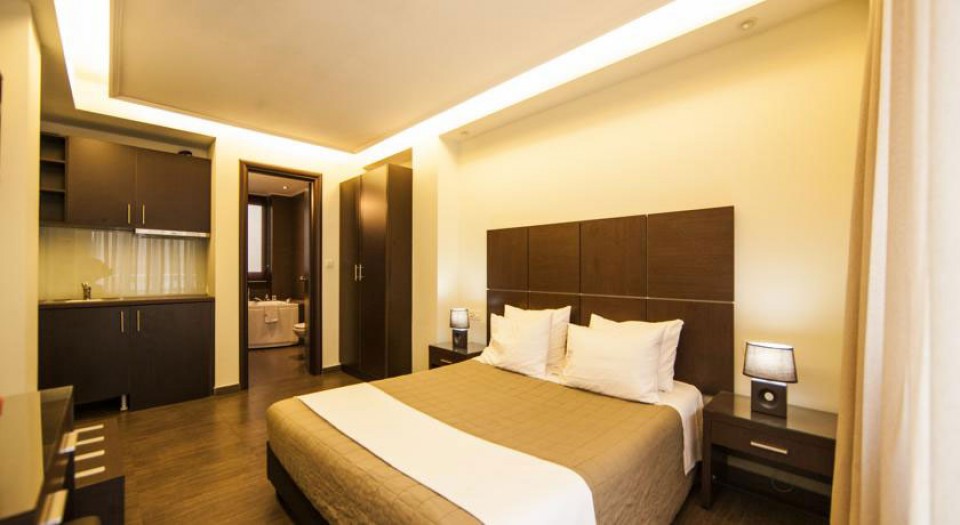 Athens Way Hotel is a new elegant  hotel  located in the heart of Athens,  offering  design accommodation and personalized services to all business and  leisure guests.

Whether you visit Athens for leisure or for a short business trip, Athens Way is the perfect spot from where you can begin exploring the beauty of Athens.

Conveniently located at 500 meters from  "Panepistimio" metro station,  1km (1/2 mile ) away from Syntagma square and the main shopping district of Athens,4 min. away from Acropolis by subway , its  new museum and the old district of Plaka.

The location of Athens Way is hard to beat.Our dedicated concierge will plan your daily schedule so that you make the most out of your stay. Be it a sightseeing tour or a cool walk around the vibrant streets of Athens, the Athens Way Hotel will graciously show you the Way to the best of Athens lifestyle.

25 guestrooms
Rooftop terrace
Bar/lounge
Air conditioning
Front desk safe
Luggage storage
Tour/ticket assistance

Air conditioning
Cable TV service
Cribs/infant beds (surcharge)
Free WiFi
Free wired high-speed Internet
Hair dryer
In-room safe
LCD TV
Phone
Room service
Soundproofed rooms
Best Western Amazon 3* -Sintagma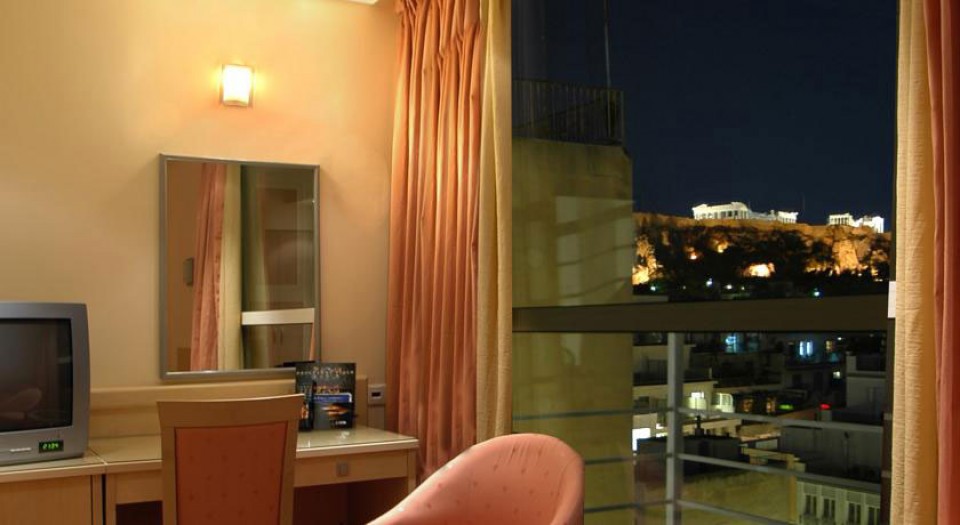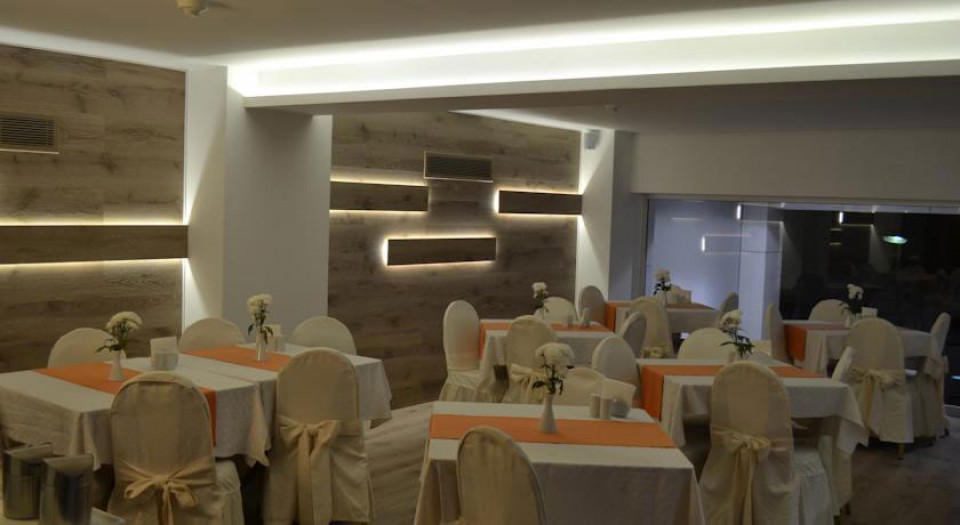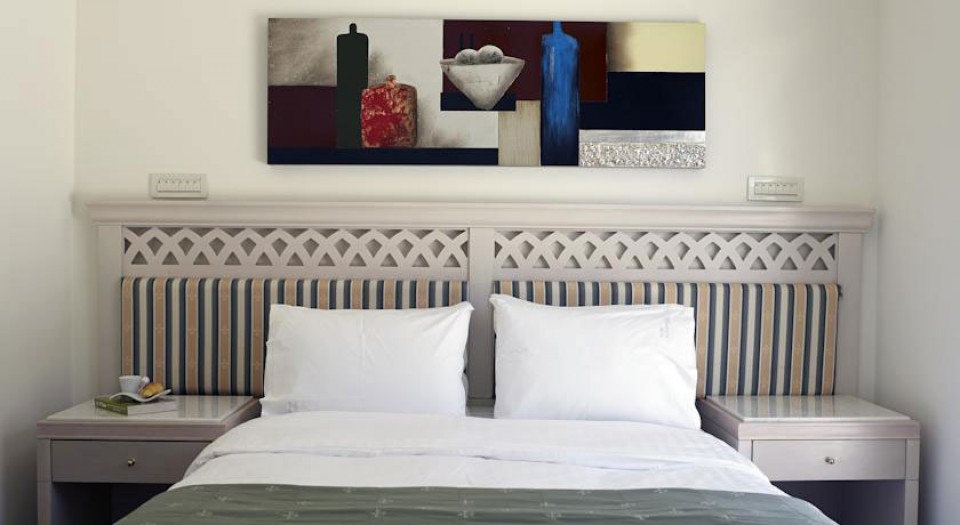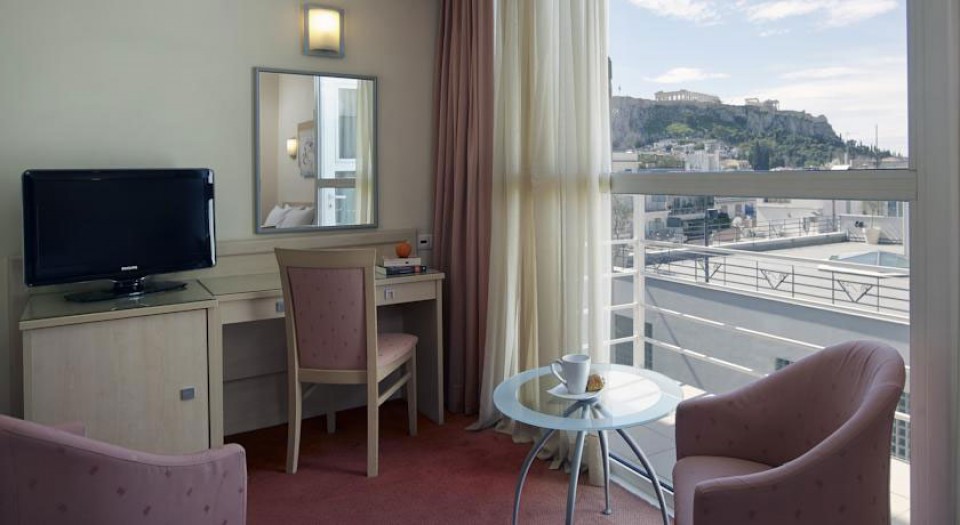 Best Western Amazon Hotel offers an airport shuttle and a great location, putting you within just a 10-minute walk of Roman Agora and Syntagma Square. You can unwind with a drink at the bar/lounge, and free buffet breakfast is available daily between 7:30 AM and 10:30 AM. Refrigerators, minibars, and room service are offered in all rooms.

Amazon Hotel is located at Syntagma, in the center of Athens, in the scenic area of Plaka. Recently renovated, it has all modern amenities and with the particularly experienced staff, at Amazon Hotel Athens you will promptly feel the friendly and family atmosphere required to make your stay pleasant.

The experienced staff as well as the reception of our hotel is at you disposal 24 hours a day so that you always have a pleasant stay.

The experienced staff as well as the reception of our hotel is at your disposal 24 hours a day so that you always have a pleasant stay. Furthermore, the hotel undertakes luggage safe-keeping, transportation from and to AMAZON, arrangement of small trips, car and motorbike rentals, and a massage studio (upon appointment). The cafeteria and breakfast room are on the 1st floor of Amazon Hotel. There is also a small convention room for your professional meetings. The friendly and family environment of AMAZON will provide you a pleasant stay in Athens, regardless of the purpose of your trip.

Breakfast room
Bar and Snack bar
Everyday cleaning
Coffee bar
Convention center (access to Internet)
Arrangement of your transfers with normal fees
Small trips
Laundry service

 The hotel has 46 completely renovated rooms, equipped with all modern facilities, such as sound-proof windows, satellite television, subscription television, direct phone line, bathroom, air conditioning (heating, cooling) with autonomous thermostat, music, refrigerator, mini bar, safe, magnetic locks, access to internet (isdn, voice mail), hair drier and dinner table. Room service available on a 24 hour basis.
Central 3*- Plaka- Athens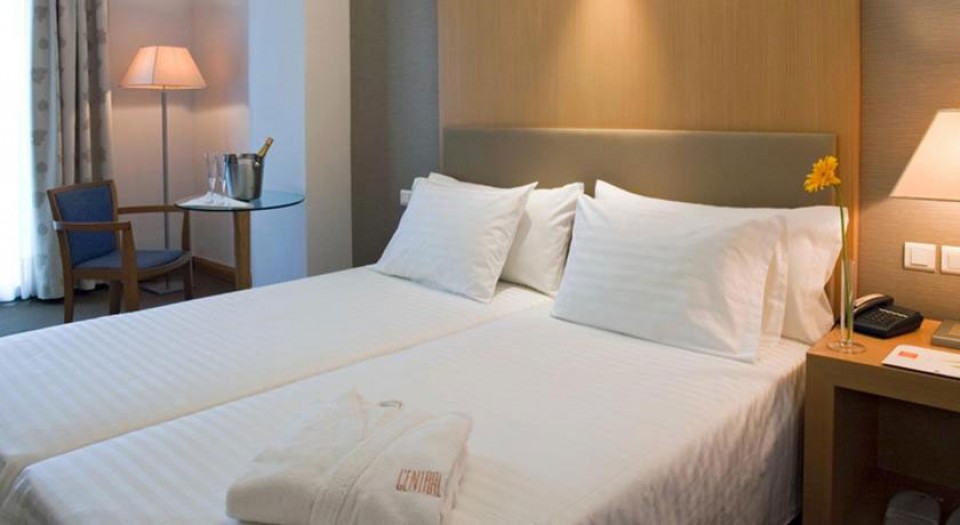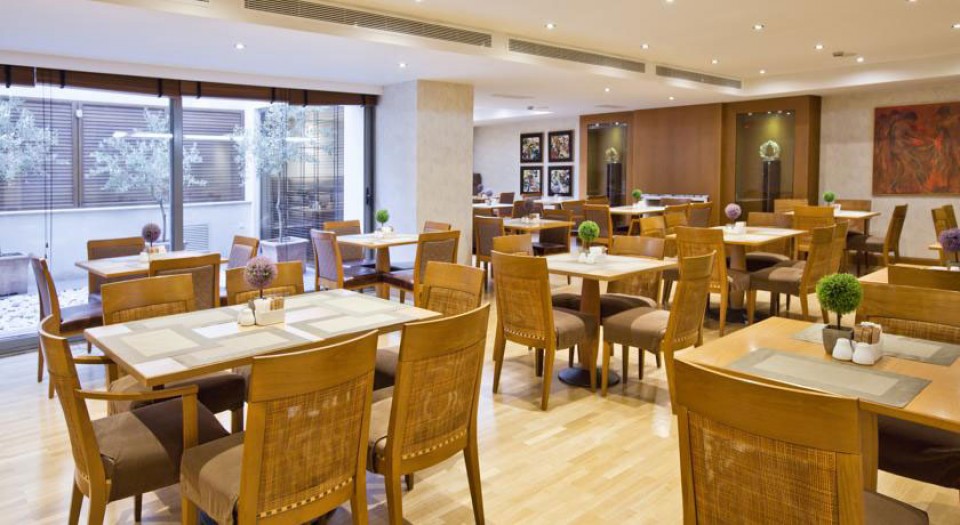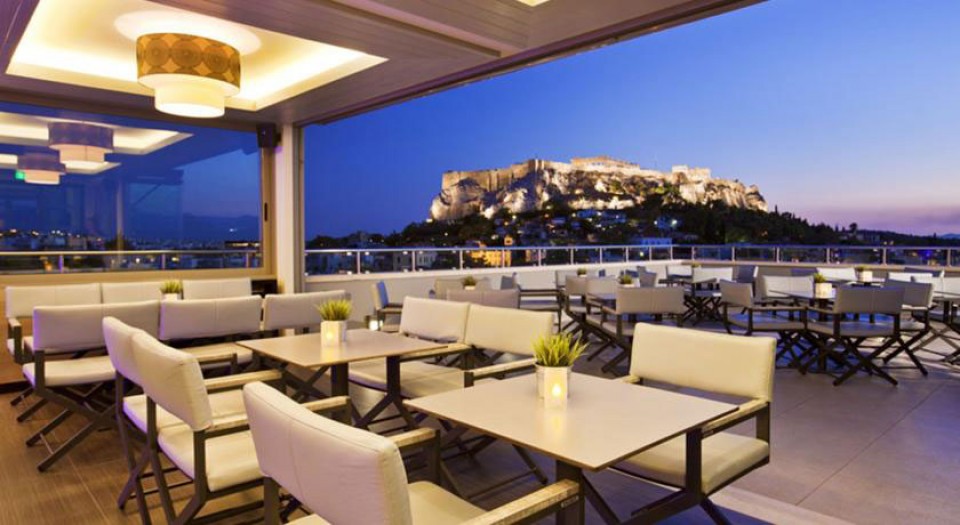 Central Hotel is centrally located in the heart of the Old City of Plaka and the Acropolis, only 200 m. away from the Constitution square, the city's business district.

Enjoy a brief business trip or discover the Ancient Greek civilization in the area around the hotel and relax in our completely renovated rooms with the stunning view to the Acropolis. All rooms are designed to meet the highest standards of accommodation and feature upscale furnishing and decoration.

 Take your time to enjoy the romantic scenery from our unique terrace. Be it during sunrise or during sunset, we invite you to admire the magnificent view to the Acropolis, only a breath away. Indulge to this unforgettable experience and travel through time by combining the traditional with the holy, history with evolution, and trust the discrete service of our experienced personnel. Or simply relax in the revitalizing waters of the jacuzzi we have created for you on our impressive terrace.

Private parking operates all day (space is available upon request due to limited availability).
Conference and meeting facilities that can accommodate from 20 to 100 persons are also available upon request. Choose one of our specially designed rooms to hold a successful meeting or event and our experienced personnel will cater to your most specific needs.
Technical equipment is also available upon request.

 Safety Deposit Box, centrally controlled air conditioning or heating, Work Desk, Marble tiled bathrooms with Shower or Bathtub, Hairdryer, Bathroom Amenities, Telephone, Satellite LCD TV, Fridge, Free Internet access, Smoking or Non smoking rooms available.
Hermes Hotel 3*- Plaka – Athens
Hermes hotel is a very modern boutique 3 star superior hotel in a top location ! Situated at the exceptional and renowned region of Plaka which is considered to be one of the most exquisite areas of Athens. Hermes hotel is a small, stylish and functional complex of unique aesthetics and excellent organization, which offers a synthesis of comfortable accommodation and qualitative services, in an relaxing environment. The hotel has 45 rooms, totally renovated in 2015 with a fresh atmosphere special touch and care to all little details

Main amenities

45 smoke-free guestrooms
Restaurant and bar/lounge
Rooftop terrace
Free children's club
Self parking
Business center
Airport shuttle
24-hour front desk
Coffee/tea in the lobby
Air conditioning
Daily housekeeping
Car rentals on site

What's around

In Plaka
Metropolitan Cathedral of Athens (0.1 mi / 0.2 km)
Roman Agora (0.3 mi / 0.4 km)
Tower of the Winds (0.3 mi / 0.5 km)
Hellenic Parliament (0.4 mi / 0.6 km)
Acropolis (0.5 mi / 0.7 km)

Air conditioning
Connecting/adjoining rooms available
Cribs/infant beds (surcharge)
Daily housekeeping
Day bed
Deep soaking bathtub
Desk
Egyptian-cotton sheets
Free dial-up Internet access
Free toiletries
Free WiFi
Hair dryer
In-room childcare (surcharge)
In-room massage available
In-room safe
Iron/ironing board (on request)
Premium bedding
Premium TV channels
Private bathroom
Refrigerator
Room service (limited hours)
Satellite TV service
Shower/tub combination
Television

.
K29 Hotel 3* – Omonia- Athens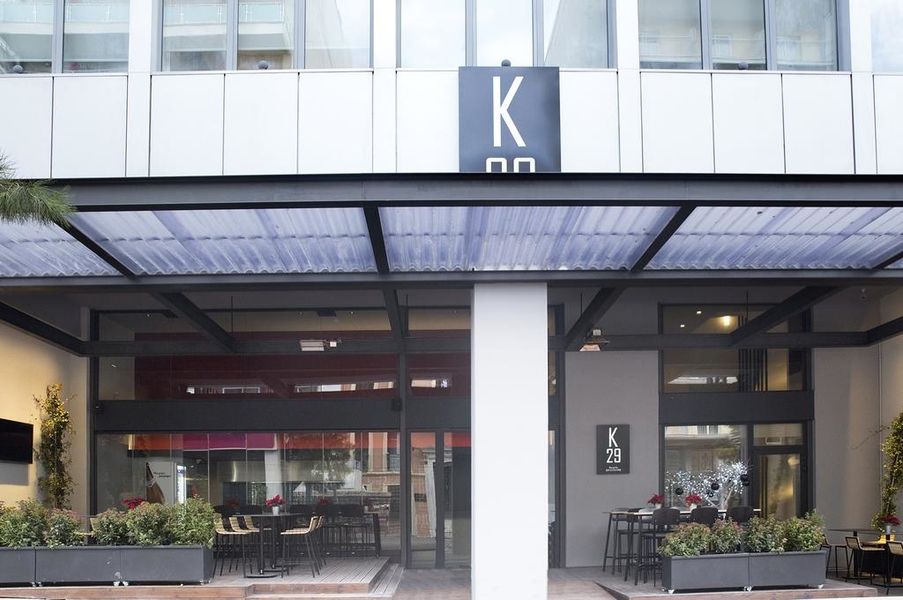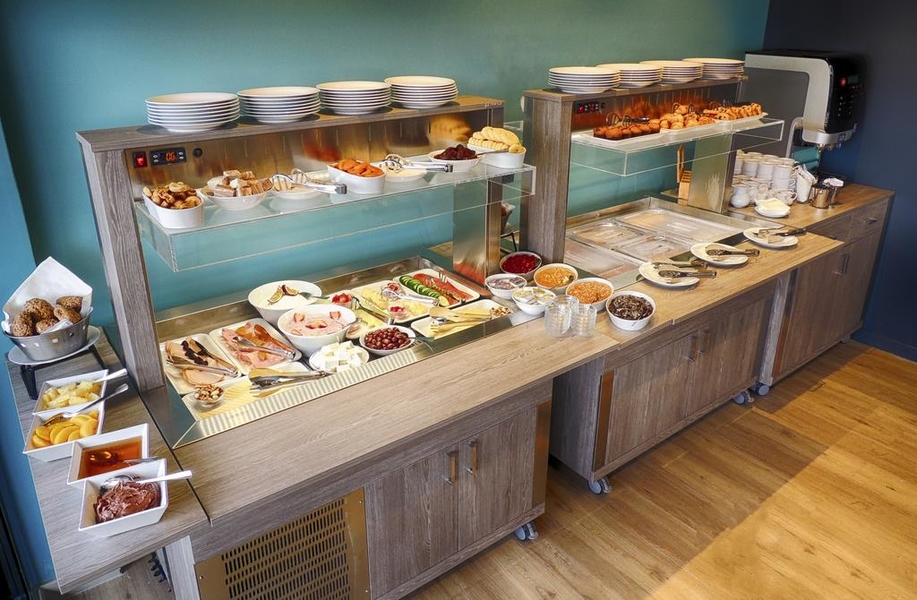 Centrally located in Athens, within a 4-minute walk of Omonia Square, K29 offers modernly designed units with kitchenette and free WiFi access. An urban-style cafe offering street food and a variety of coffee and beverages can be found at the ground floor of the property, while a lounge cafe is also featured on the 7th floor. Extra facilities include a business centre and a gym.

Fitted with hardwood floors, vibrant or soft colours and minimal decor, every unit at K29 has a modern bathroom with walk-in shower. Each includes air conditioning, a flat-screen TV, a fridge and an oven.

Guests can start their day with a buffet or a Full English/Irish breakfast served daily at the the Premier Loft Lounge on the 7th floor of K29, where a variety of dishes accompanied by fine wine can also be enjoyed for lunch or dinner.

Hotel's services include a 24-hour front desk, room service, express check-in and check-out and car rental. Private or public parking can be found nearby at an extra charge.

National Archaeological Museum of Athens is a 10-minute walk from K29, while Syntagma Square is 1.5 km away. The nearest airport is Elefthérios Venizélos Airport, 41 km from the property.

Main amenities

29 apartments
Restaurant and bar/lounge
Fitness center
Self parking
24-hour front desk
Air conditioning
Daily housekeeping
Snack bar/deli
Laundry service
Meeting room
Luggage storage

Free buffet breakfast and free WiFi

Feel at home

Kitchenette
Cookware, dishware, and utensils
Stovetop
Microwave
Refrigerator
Private bathroom

What's around

In Athens City Centre
National Archaeological Museum of Athens nearby
Monastiraki Flea Market nearby
Ancient Agora nearby
Roman Agora nearby
Hellenic Parliament nearby
Parthenon nearby
Filopappos Hill nearby
Acropolis Museum nearby
Odeon of Herodes Atticus nearby
Benaki Museum nearby
Pan Hotel 3*- Sintagma – Athens
Being on Syntagma Square which is the beating heart of Athens, the hotel lets you walk easily to the famous Parliament to watch the change of the guards, make your way through the old Plaka and Monastiraki neighborhoods, and visit the Acropolis on foot. A host of museums, restaurants, lively coffee shops, archeological sites and Byzantine churches are just footsteps away, but so are the fine boutiques and shopping plazas of the pedestrianized Hermou Street, named after the Olympian god Hermes. For a quick escape from city life, a five-minute walk will take you to the peaceful national gardens, and a 25-minute walk will bring you to the enchanting Lycabettus Hill that towers over the city.

What's special about this 33-room property is also its family-run ambiance, extending Greek hospitality at its best and attention to detail. A generous breakfast with lots of Greek specialties, clean and cozy rooms, free Wi-Fi and a quiet coffee shop away from the hustle and bustle of the city will make you fall in love with this charming city hotel.

Lastly, it's worth mentioning that you're right between the city's two main metro stations and tram line, meaning you're just a ride away from the airport, port and beach. Once you check in at the Pan Hotel in Downtown Athens, your true Athenian experience will begin.

Start your day with a great Greek breakfast at Pan Hotel, featuring fresh bread from the local bakery, excellent yoghurt from a small producer, fruit in season, sesame bars (pasteli) and many other favorites. The all-day coffee shop and bar offers a quiet escape for guests, with all kinds of coffee and tea, local beer, and Greek wine.

Wherever you are in the hotel, the whole property has fast and free Wi-Fi internet so you can surf the web to your heart's content. There are many other services just steps away (banks, pharmacies and the post office) so don't hesitate to ask our kind and helpful staff if you need anything.

The rooms themselves boast all the modern comforts apart from standard features like flat-screen TV, free Wi-Fi and air conditioning, from electric kettles and hairdryers to slippers and mini-bar. With its extra services and warm hospitality, the Pan Hotel rises truly above its official three-star rating. 

Private bath
Hair dryer
Individually controlled air condition
Sound-proof windows
Direct-dial phones in the room and in the bathroom
Free wireless connection
Satellite LCD TV
Weight scale
Makeup mirror
Smoke detectors
Mini bar
Electric Kettle
Safe box (laptop size)
Black-out curtains
Free baby cot upon request

Toiletries and amenities

Hair and body shampoo
Shower cap
Shoe polish
Sewing kit
Slippers
Philippos 3*- Acropolis Área – Athens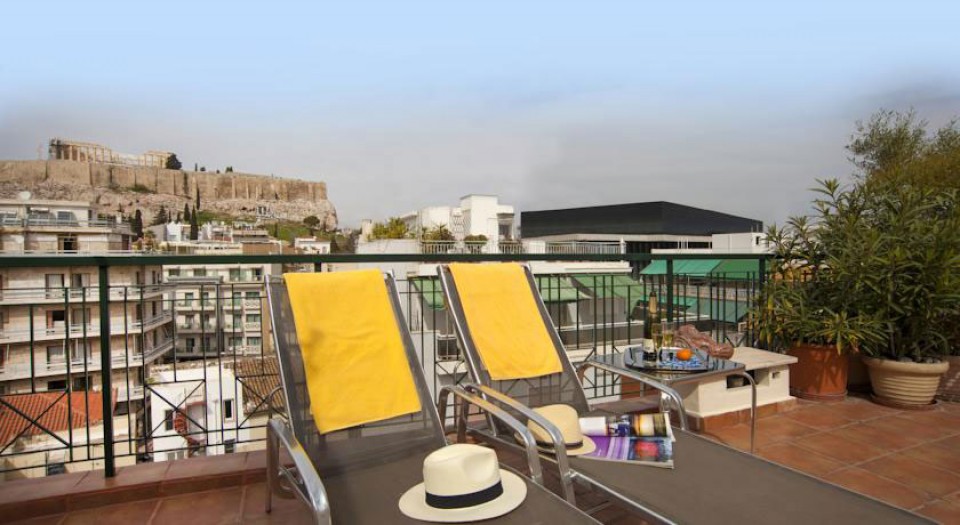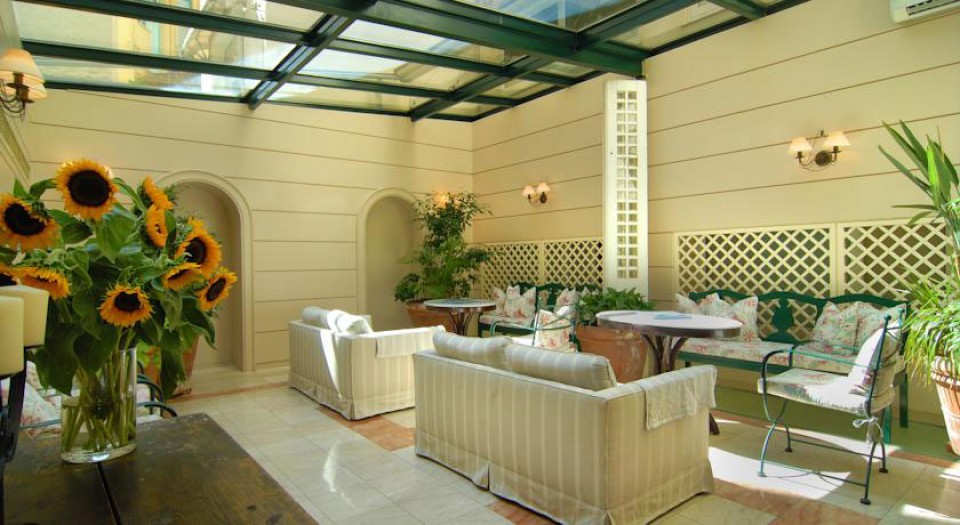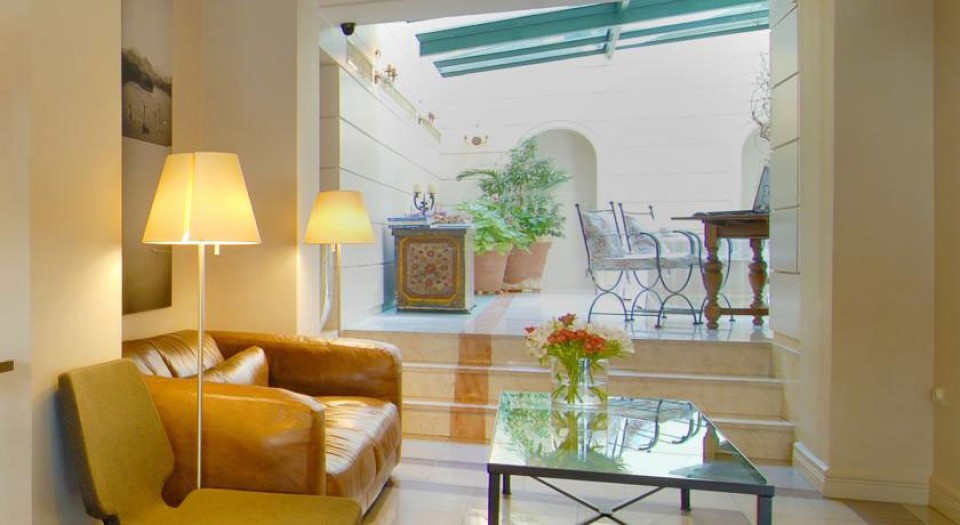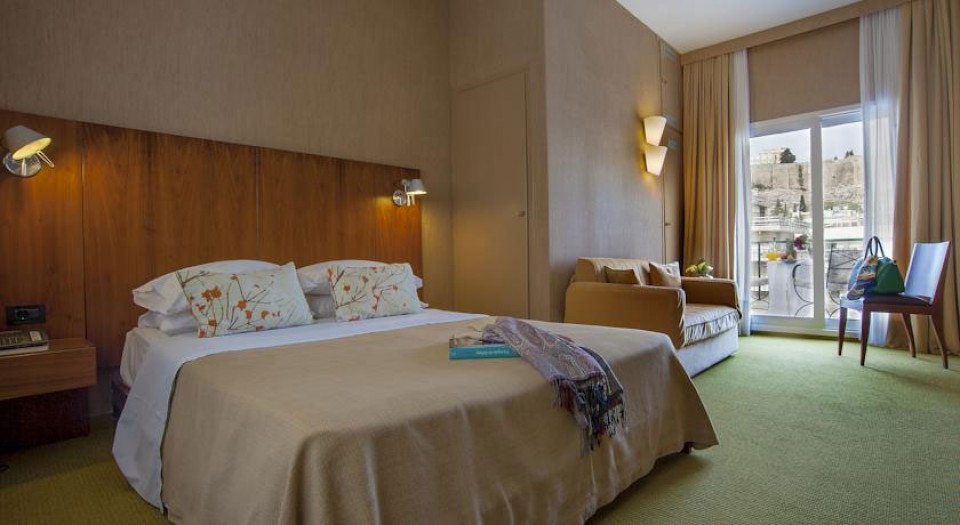 The family owned Philippos Hotelis the most ideally located in the heart of the old city district, only a two minutes walk from the Acropolis, the Plaka, the Herodus Atticus ancient theater and the new museum of the Acropolis.

The Metro Station Acropolis is a few steps away from the hotel as well as the tramway station, only one stop away from the main shopping and business

Entering from a warm and tasteful lobby our guests can enjoy spacious lounges full of charm and privacy.

The hotel provides a meeting place for those who want an efficient conference, three meeting rooms of various sizes and layouts are available to suit the needs of the

All guestrooms provide:

Card operated door,

Designer's furniture,

Double insulated windows,

Air condition,

In room electronic safe,

Direct dial phones with voice mail messaging system,

Satelite TV,

Refrigerator,

Hair dryer,

magnifying mirror,

daily change of linen,

non smoking rooms available,

some rooms have private balconies with a view to the Acropolis.
Plaka Hotel 3* Plaka- Athens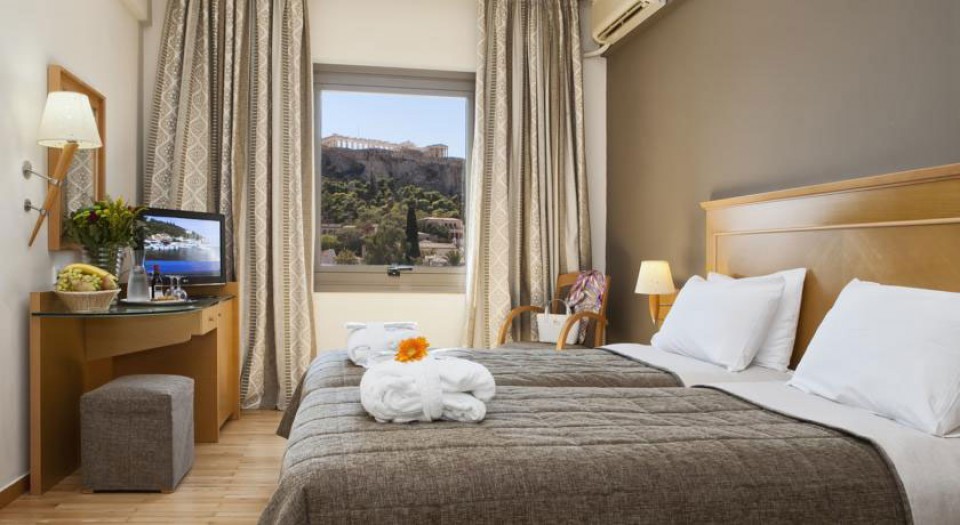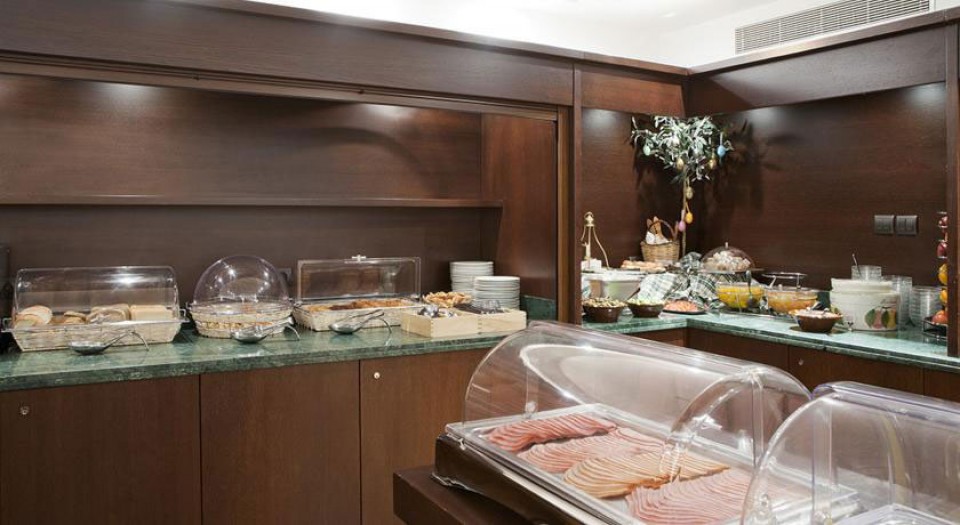 Hotel Plaka, three star, is an excellent choice for a demanding client, in a terrific location. 15th.  minutes walk from Syntagma square.
Acropolis, museums, Parliament, shopping area of Plaka and Ermou street, the Athens Cathedral are all on your door step from the hotel.
You are really in the heart of Athens, in the best location.
From the roof top you can enjoy a breathtaking view of Acropolis, and Plaka area. The hotel was renovated in 2011.
 The colorful restaurant at Plaka hotel offers a rich breakfast for a nice start of your day before exploring Athens with: scrambled and hard boiled eggs, ham, sausages, cheese, selection of serials, yogurt with honey, fresh fruits of the season, fruit salad, compote, croissants, cakes, home made jams etc. There is as well a Greek corner with feta cheese, olives, pies etc. Breakfast room is open from 07.00 – 10.00 hrs. The night shift can accommodate you on an early check out.

The roof terrace of Plaka hotel has a roof garden with a superb view to the Acropolis, the old city of Plaka, Monastiraki area, Ancient Agora and Lycabettus hill. From May to October you can enjoy your drink and a light snack on the roof garden bar open 18.00-23.30 hrs ( weather allowing).

If you want to connect to the Internet, there is an Internet corner with a printer on the first floor lounge open 24 hours. We offer also free Wi-Fi.
Our receptionist can help you with travel services in Greece and organize sightseeing and day trips around Athens.
In addition there is possibility for:
Doctor on call, laundry service,post service, parking at an extra cost nearby, baby sitting. 

Bath Amenities

Bathroom with Shower

Cable-Satellite TV

Central Heating

Closet

Daily Maid Service

Direct dial telephone

Electronic Locks

Guest Laundry

Hairdryer

Individually Controlled Air Condition

Iron & Ironing Board (on request)

Modern Furnishing

Music

Non-smoking rooms available

Refrigerator

Room Service (07:00-19:00)

Safe Deposit Box

Soundproof Windows

Wake-up Call

Free Wi-Fi

Writing Desk
Acropolis View 2*- Acropolis Área – Athens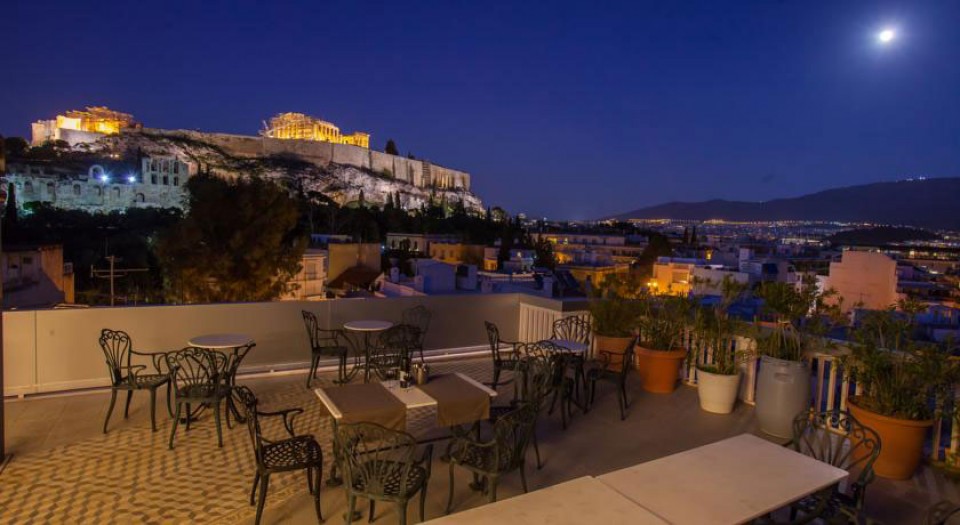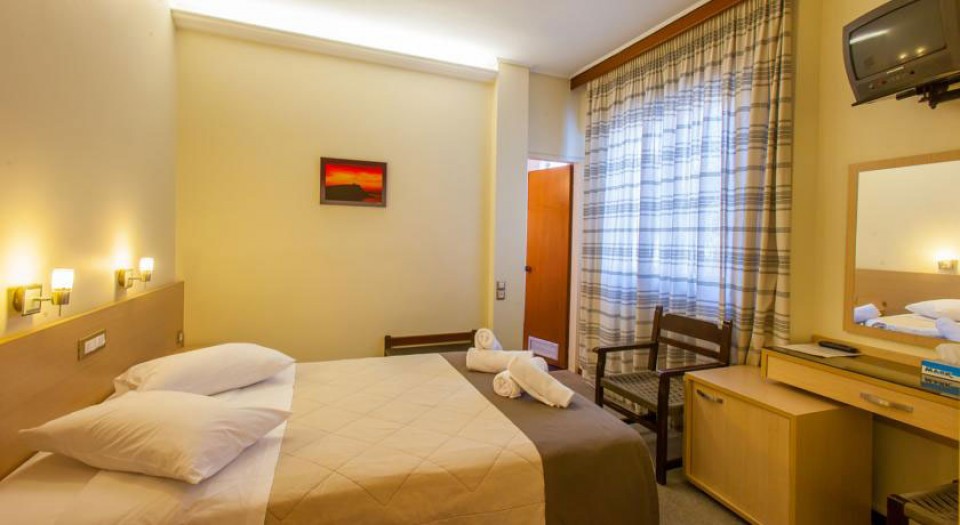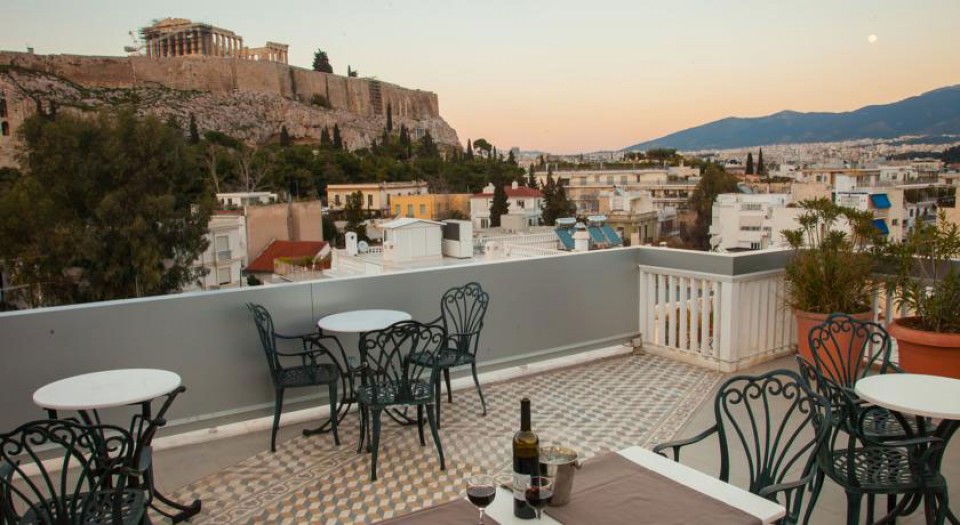 Located in the historical centre of Athens, Acropolis View Hotel offers spectacular Parthenon views. The New Acropolis Museum and the metro station are just 650 metres away.

All air-conditioned rooms at the Acropolis View are equipped with free Wi-Fi access, a satellite TV and mini bar. Some rooms include balconies with views of the Acropolis or Filopappou Hill.

American breakfast is served daily in the breakfast room and there is also a rooftop terrace where guests can relax with a drink while enjoying views of the Acropolis.

The 24-hour reception desk can provide information about the major archaeological sites, which are within walking distance from Acropolis View Hotel. Eleftherios Venizelos International Airport is 32 km away.

Main amenities

32 guestrooms
Rooftop terrace
Bar/lounge
Business center
24-hour front desk
Air conditioning
Daily housekeeping
Computer station
Microwave in a common area
Laundry service
Luggage storage

Free buffet breakfast and free WiFi

For families

Free cribs/infant beds
Refrigerator
Private bathroom
Free toiletries
Daily housekeeping
Laundry facilities

What's around

In Anafiotika
Filopappos Hill (4-minute walk)
Parthenon (4-minute walk)
Acropolis Museum (6-minute walk)
Roman Agora (13-minute walk)
Ancient Agora (17-minute walk)
Hellenic Parliament (22-minute walk)
Odeon of Herodes Atticus (4-minute walk)
Temple of Olympian Zeus (12-minute walk)
Arch of Hadrian (13-minute walk)
Zappeion Hall (16-minute walk)
1741total visits,2visits today