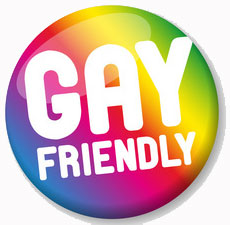 Crete Gay Beaches
Sarantari Beach near Hersonissos
Heading from Heraklion to Agios Nikolaos, right after Hersonissos, you will meet the Creta Maris Hotel and the Hersonissos Maris Hotel. After these two hotels there is a tavern named Sarantaris. Right in front of this tavern, after climbing down the rocks, you will find an amazing nudist beach, which is one of the most crowded gay friendly beaches in Crete! The water is spectacular and it is almost sure that you will end up meeting several interesting guys. It is definitely the number one choice if what you are looking for in Crete is a gay beach.
Komos Beach near Matala
Matala is a must see location when in Crete. Very close to this popular area (just use the coordinates in Google Maps) you can easily find one of the most popular beaches for gay travelers in Crete. Keep in mind that it is near a village named "Pitsidia".
Kavros beach near Georgioupolis
After the Village of Kavros and before Georgioupolis, there is a wide space near the main road where you can park your car. Right after the small dunes and woods, you will find yourself on a beautiful sandy beach which is considered to be a hot meeting point for gay travelers.
Macherida near Chania
Macherida beach in Chania is becoming more and more popular to gay men staying in Chania or the nearby regions. Close to the spot of "Akrotiri", you will meet gay men strolling around looking for good company.  Locals claim that there are also some gay spots in other nearby beaches like Agia Roumeli and Agioi Apostoloi, but I will leave it to you to find out if the rumors are true.
Kolokitha Beach near Elounda
Heading from Elounda to Kolokitha Island, just after the windmills, take a turn towards Agios Fokas. You will see the sea on your right hand. This is a place where you can enjoy some nudism in the earlier hours of the day, while gay guys are seen sunbathing all over the rocks.
Ammoudaki near Rethimno
Near Damnoni and Plakiasl, look for the spectacular beach named Ammoudaki. There is a nudist area, and many of the gay travelers of the area choose this beach for enjoying the hot greek sun!
Peristeras Beach near Ierapetra
Around 5 km from Ierapetra, and while on the beach road leading from Ierapetra to Sitia, you will see a gas station of EKO brand. Right after this you will find the beach named Peristeras. The beach is about 1 km long and there you will meet several gay men swimming, sunbathing, flirting and enjoying the beach.
Crete Gay Bars
Heraklion / Hersonissos
Eros Gay Bar
Emmanuel Tsagaraki Road
Malia
Crete
Greece
Eros Bar is the only gay bar on the island of Crete and longest running, since 2005. We are open all year round but more busy during the touristic season. As most European countries, the nights start late and finish early hours in the morning. Even though we open at 21:00. the bar starts to become busy from 23:30 with the locals turning up around 01:00. We close at 04:00 on weekdays and 06:00 on weekends (Fri & Sat). Mainly men of all ages.
LA BRASSERIE
La Brasserie cafe/bar/music scene. Parties with Djs & LIVE CONCERTS Jazz, Rock, Alternative , Indie. Funk, Punk ,Beat . ( Live Bands shows , dance shows Latin nights , Theater performances Bazzars and more)
Friendly environment for everyone openminded place for openminded people In the center of town . A stylish and sofisticated space, colourful and pop art environment and designed bar cafe. We are different and unique because we accept both !
Great pure drinks , wild cocktails with exotic fresh fruits and quality coffee! Tasty cousine with delicious HOMEMADE dishes. salads and deserts ( everything only with bio ingredients ) They welcome you with a big smile and a glimpse of the eye. Qualified , professional and friendly stuff. Open all day … open end!
AMENITIES
Food
Breakfast, Dinner, Lunch, Snacks & Fast Food
Facility Services
Bar, Free Condoms, Free Internet, Free Lubricants
Ages
All Ages
 Mixed (Gay Friendly)
Korai square 15 pedestrian Heraklion down town City center
2814001418
Pagopiion
St. Titus Square- Heraklion
The old historic Pagopiion closed, the new Pagopiion is here. With new décor, new layout, new menu, but the scene on St. Titus Square as a constant value. Café, bar and restaurant, combines everything for all times of day. The menu has Mediterranean dishes, cocktails that gives a luxurious tone and the decor is modern with emphasis on marrying wood and metal. In summer, all claiming one of the outer tables to "see" the picturesque square
 Y.O.L.O. bar Hersonissos Crete
If you like something, well, a little out of the ordinary, you come to the right place. Think low lighting, low tables and high-end drinks and a very special atmosphere. You can have a serious drink, without being serious…
YOLO feels like a neighbourhood bar with killer drinks and great service. It's a bar for grown-ups. The idea was to create a bar where everyone wants to go to: 'We're a small, cosy and informal bar, where you can enjoy our drinks and be able to talk to your (new) friends rather than shout at them because it's so loud. But we also love a party – we don't believe the two have to be mutually exclusive and…. We play the music YOU like !!
YOLO is a Cosmopolitan bar with a Bohemian incrowd from each part of the Globe……..    Here countries don´t exist, just like-minded people….
The Y.O.L.O. (former Roze Maandag) is famous for its Mojito's and you can watch your drink materialize at the hand of a pro. The bar even boasts it's own herb garden  and fresh ingredients play a big part in what makes the cocktails tick.
For sure the Y.O.L.O. is thé rising star amongst all the other bars in Hersonissos. Come in to have a look and check it out by yourself….
Open from 10 pm till 3am. But if we are in a Crazy Mood and the Company is Good we stay open till late….
Chania
2 Lux
8 Sarpidonos St.- Chania

One of the classic alternative places: a meeting point for all the artists of the city for coffee and at drinks time. It also provides both outside and inside spaces that are constantly being redecorated.