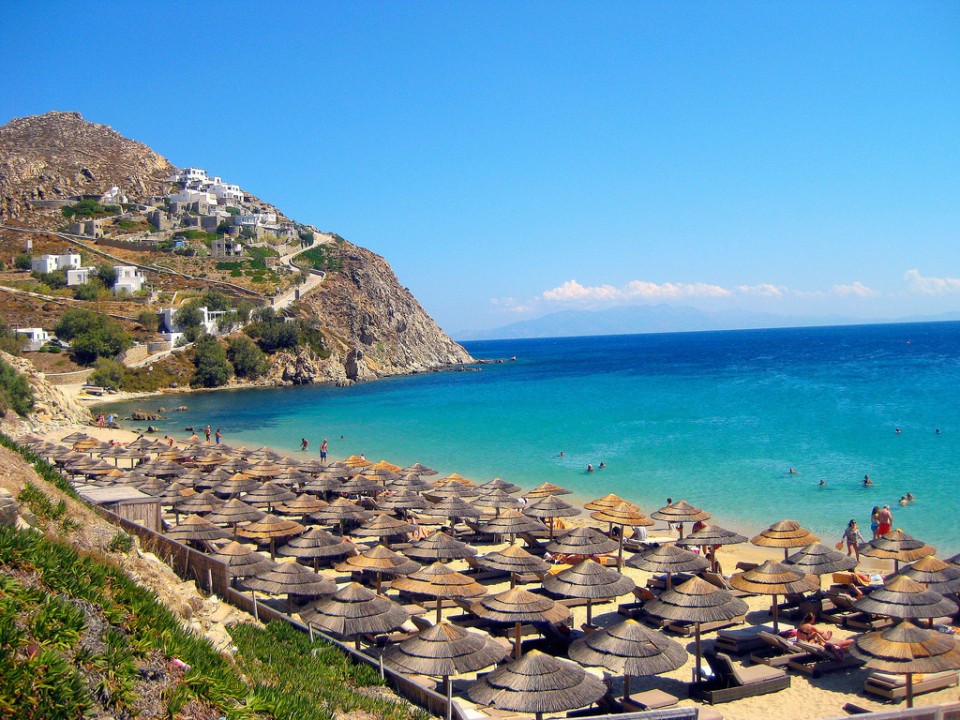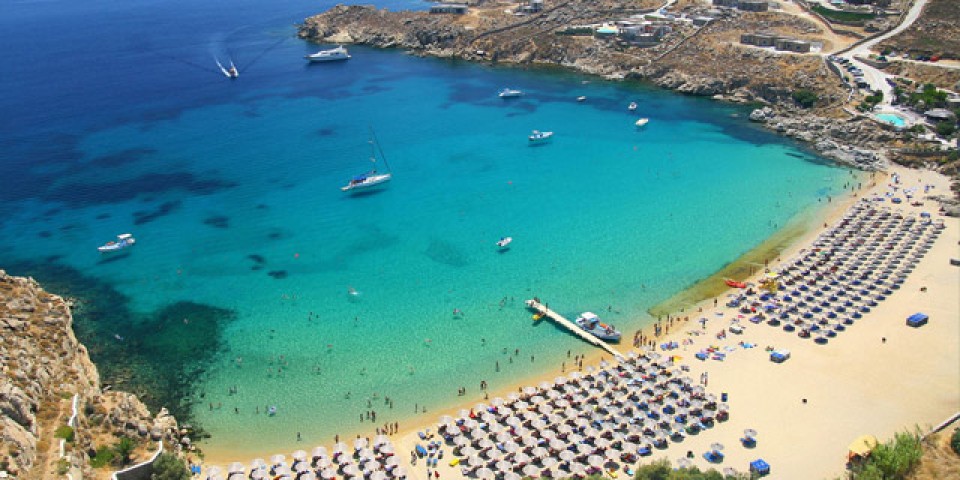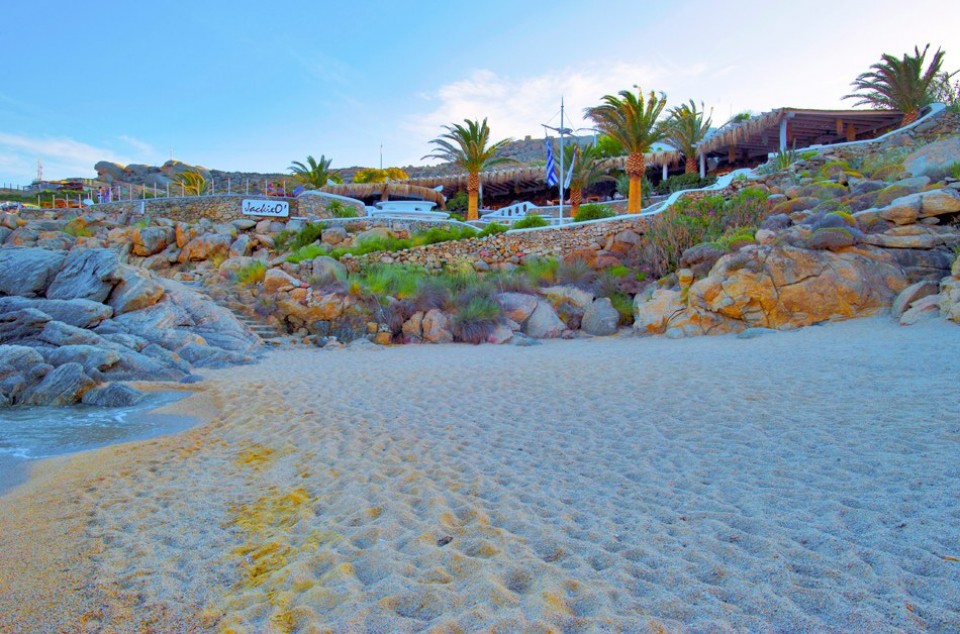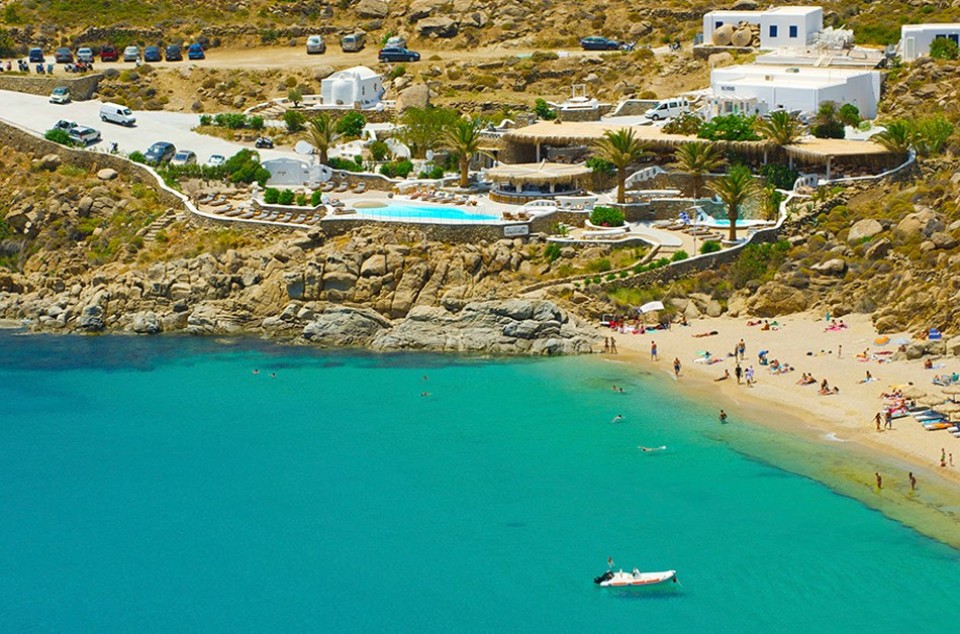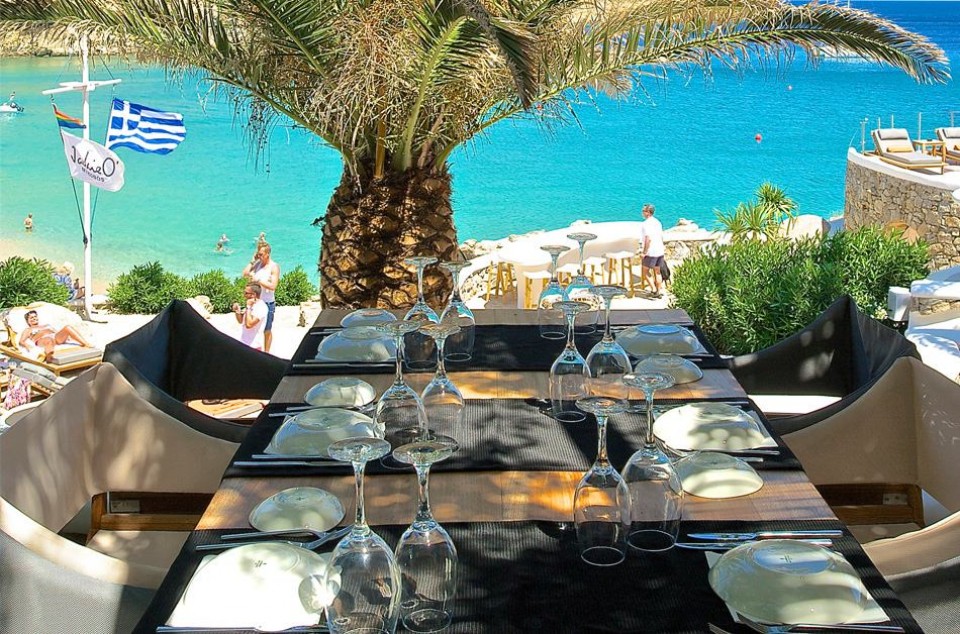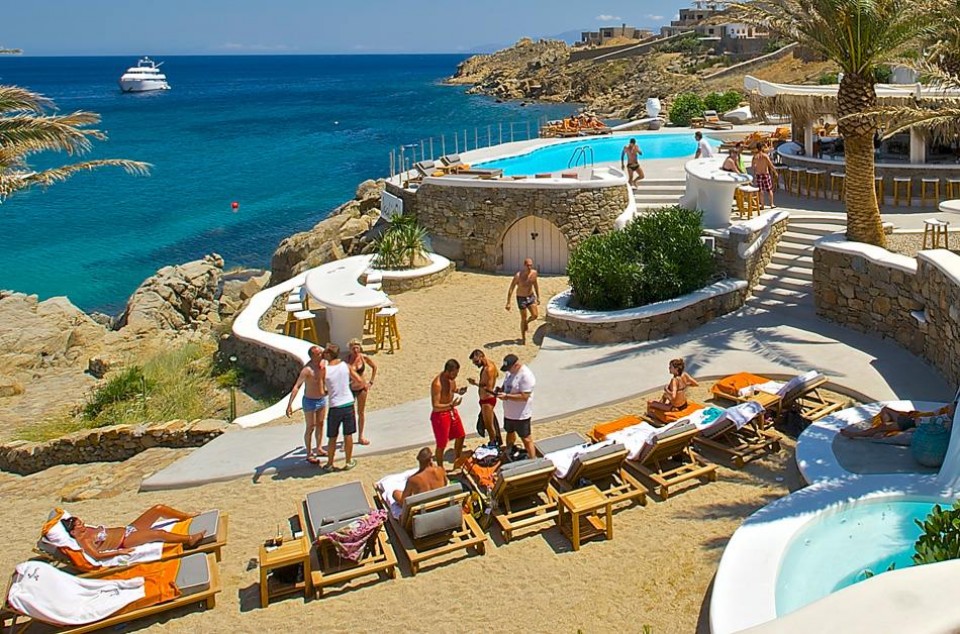 No 1 Gay beach in Mykonos

Elia beach is the most popular beach for gay visitors to the Island. It is also one of the largest. The beach has great sand, sun beds and shades available for daily rent. As you look to the sea, the right hand side is gay. Look out for the rainbow flat. Beyond the sun loungers you will find a smaller bay where you will find even more gay sunbathers. It is also a popular nudist spot. Arrive early if you want to get a good sun lounge with a front view. Food and drink is not cheap, but of good quality. The bar and restaurant is at the other end of the beach, but the waiters are very handsome so you can have food delivered right to your sun lounger. Ordering from the beach staff and a nice tip will secure your seat the next day. There is also a large open air beach restaurant located by the beach car park. The menu is full of delicious seafood and meat dishes, but its pricey. Elia Beach is quite in the morning. People tend to arrive by noon and leave from 5pm to 7pm

The next beach beyond the rocks of Elia, Agrari, is mainly straight, but you'll sometimes find an overflow of gays there too. It is more secluded and less crowded attracting gay sunbathers who are seeking a more relaxed ambiance..
This year the owners present a new addition to Mykonos's fabulous summer beachline-up with Jackie O' Beach Club in Super Paradise Bay. We have known and loved this area for more than a decade, it has been much of our 'inspiration' in many endeavors. The large rocks and sandy bay are our favorite in all of Mykonos ! Here we created a small 'Universe' with a 150 seat restaurant, large open bar, pool, jacuzzi and private lounge areas, its own church for ceremonies, new Jackie O' boutique and beach front in an almost ancient Greek Amphitheater style, with the turquoise sandy bay setting the stage for the ancient Greek gods of the sun (Helios/Apollon), wind  (Aeolos) and sea to perform (Posidonios) ! The creation took almost 9 month, a true labor of love with its many sculptural elements and view points and we hope you will enjoy the unique ambience of our "primitive luxury"
Gay Bar:

Elysium bar gay is a sunset bar is a bit of a tradition in Mykonos. One of the best gay bars to watch the sun set over the ocean and enjoy a cocktail with that special friend, the bar is set on the terrace of the gay hotel Elysium and often has a little drag show to keep you entertained after the sun goes down, a good choice to start your night.

Jackie O bar gay is a modern designer bar with a Greek feel, a large terrace for watching the sun set over the water, after dark it becomes a great place to dance the night away, friendly staff, good music and nightly Drag shows make this bar a must try when in Mykonos.

Babylon hosts some of the best party's around, as well as nightly drag shows, this bar is always packed by midnight so if you want to get the best seats get there before 11, the bar located by the old harbor overlooking the sea next to the gay bar Jackie O.

@ 54 Lounge Bar & Discotheque is the new kid on the block opening its doors in 2014, and has become the place you must go in Mykonos. With exclusive weekly parties and top DJs make for a good night out, don't forget to enjoy the sunset with a glass of champagne from the terrace, Then when the day has turned to night, step inside and dance the night away.

If you're looking for a fun place to start you night out then you cannot go wrong with Lola bar, your hosts Gilles and Dimitr make everyone feel welcome in this nice cabaret music bar.
1418total visits,1visits today